In the past year, one thing that has seemed to explode all over the nail community are "Indie" brand polishes. Indie brands are generally polish mixed at home, and sold to the masses. They differ from anything you can find in a traditional store. If you are looking for something unique...shop Indie!!
One of the very first Indie brands I remember hearing about is HARE Polish.
I only own 5 Hare's, but I wanted to share how lovely they all are.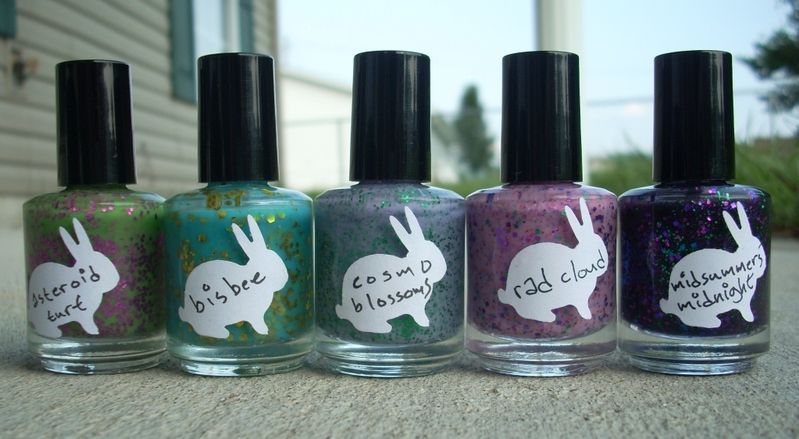 Side shot to show the glitter....



Of all of these, Midsummer's Midnight is my favorite. Just look at how gorgeous! When I wore this, I layered it over Illamasqua Baptiste, and it was breathtaking.


(L to R)Midsummer's Midnight, Rad Cloud, Cosmo Blossoms, Bisbee, and Asteroid Turf. These are all 2 coats solo, no top coat.



When my 6yr old daughter looked at my nails on the day I was wearing Bisbee,
she said, "Mommy, what's that one called?"
me, "Bisbee"
her, "Well....she could have named it Lily pads!"
She does have a point! It is reminiscent of lily pads floating in water!
Hare polish will always remain one of my favorite Indie brands. Every time I wear one of these, I get tons of compliments. The formula is great, I've not had issues with any of mine. Wear time is amazing. With my job, I'm lucky to make it 2 days without a polish change. I wore Bisbee for FOUR days!!
Hare Polish is available on Etsy, HERE
You can also "like" Hare Polish on FACEBOOK and get updates on when the Etsy store will be restocked, and to see previews of new collections!!
*Disclaimer. I purchased these polishes myself, for personal use...and they were well worth every cent!